Thanksgiving wouldn't feel right without pies. Growing up, we'd bake as many as 15 pies for the holiday. Whenever my dad would remind us that this was almost 2 pies each, we'd stop to consider this fact and then keep baking anyway. We'd have leftovers for a week.
I don't make that many pies anymore. We usually whittle it down to three or four kinds we love most and that's what we have for Thanksgiving.
Here are recipes for our three most requested pies and the pie crust recipe I use. 
I've never been good at pie crusts. That's why I was so happy to get this recipe for shortbread crust in my family and friends cookbook. I use it without sugar for all my savory pies (we like quiche, shepherd's pie, and chicken pot pie).
Shortbread Pie Crust
1-1/2 cups flour
1-1/2 tbsp sugar (may omit)
1/2 tsp salt
2 tbsp milk
1/2 cup oil
Mix together with a fork until moistened. Press into the bottom of two 9 inch pie plates. Prick the bottom of the crust if pre-baking (10 minutes at 400°). Otherwise add filling and bake according to pie recipe directions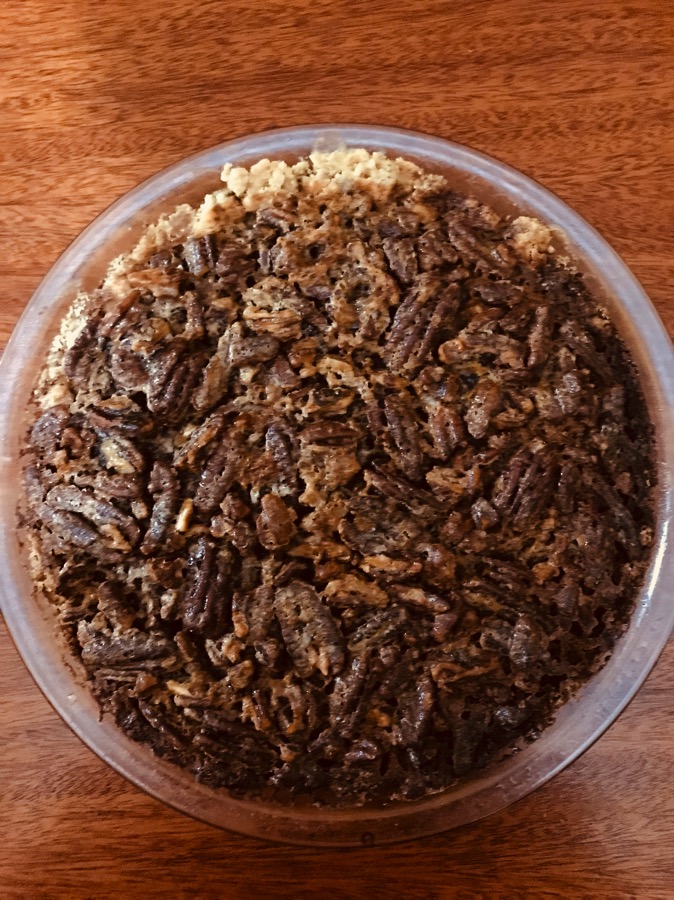 The first year we were in Africa, I realized I couldn't get corn syrup. My husband loves pecan pie and his parents had sent us some just for Thanksgiving pies. A friend who was a missionary in Russia at the time gave me her recipe for Pecan Pie made with sugar instead of corn syrup. We all think it tastes better.
We have to bring our pecans from the US. This year I'm using pecans I got in Georgia last year while we were on our way to visit my sister — and driving straight into Hurricane Matthew.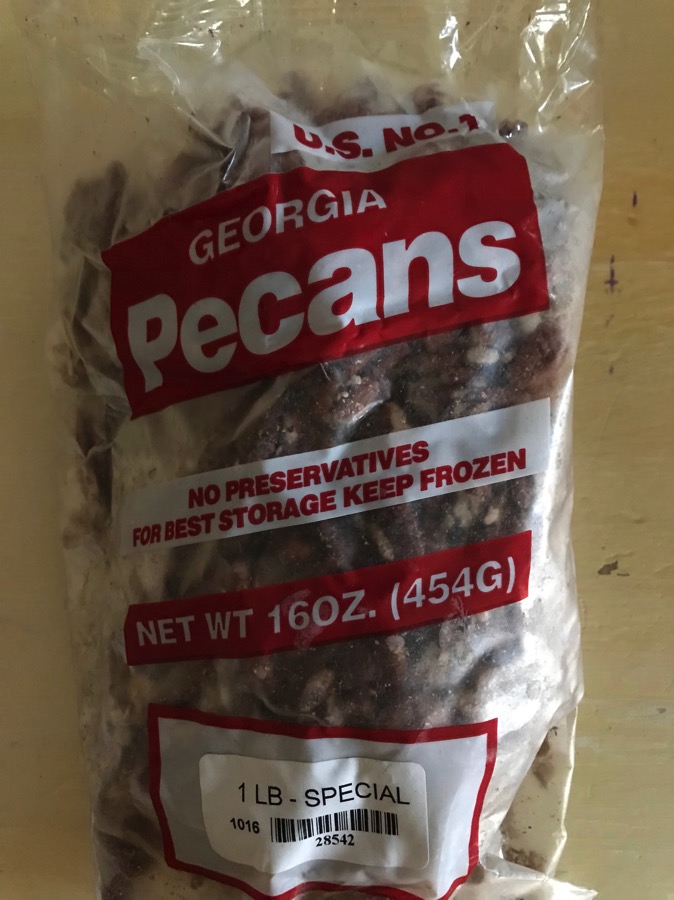 Pecan Pie
1 cup light brown sugar
1/4 cup white sugar
1/2 cup butter
2 eggs
1 tbsp all purpose flour
1 tbsp milk
1 tsp. vanilla
1 cup chopped pecans
Place in a 9 inch pie crust. Bake at 350° for 1 hour.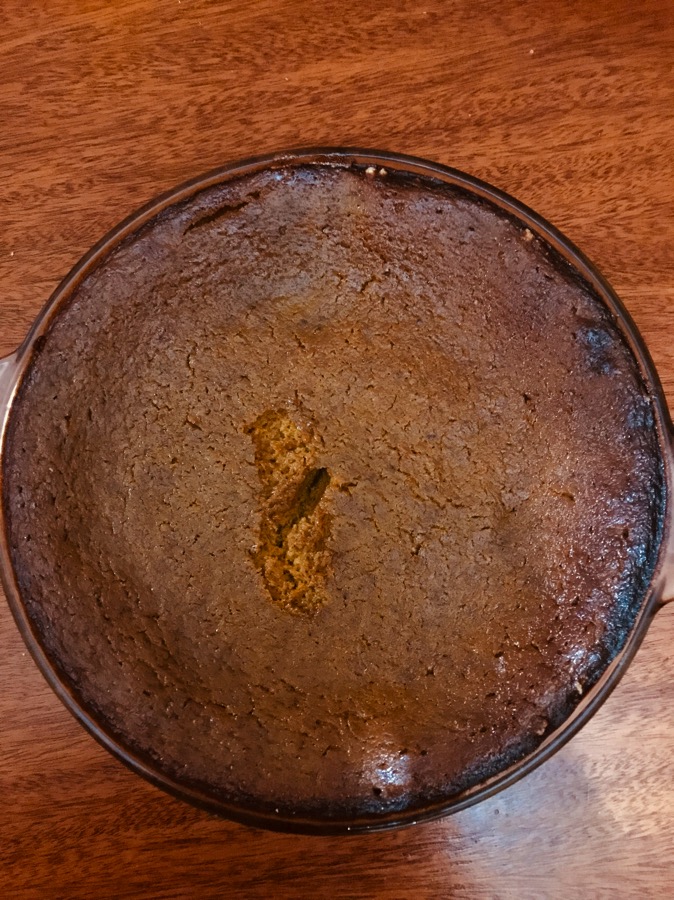 Pumpkin Pie
2 eggs
2 cups pumpkin
3/4 cup sugar
1/2 tsp. salt
1 tsp. cinnamon
1/2 tsp ginger
1/4 tsp. cloves
1-2/3 cup evaporated milk or light cream (I use milk)
Add all ingredients together in a blender and blend until smooth. Pour into a deep 9 or regular 10 inch pie crust. Bake at 350° for approximately an hour or until a knife inserted in the center comes out clean.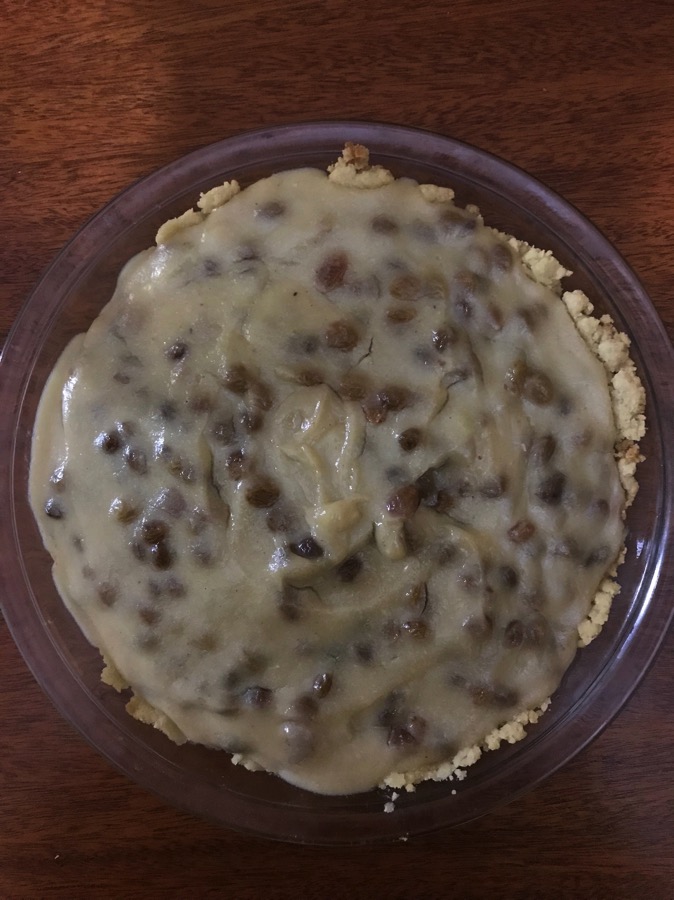 Sour Cream Raisin Pie is, hands down, my favorite pie ever. I've had people say it sounds gross and then fall in love once they tried it. The one and only time I ever won a cooking contest was with this pie recipe.
Sour Cream Raisin Pie
1 baked pie shell
Wash 1 cup raisins
Add 1 cup water
Boil together for 5 minutes
In a separate bowl mix together:
1 cup sugar
1 cup sour cream (can use yogurt)
3 level tbsp corn starch
1/4 tsp salt
2 eggs
Pour sour cream mixture over boiled raisins. Cook until thick, stirring constantly (only a few minutes). Pour into baked shell and cool.
http://annahuckabee.com/wp-content/uploads/2016/07/logo-300x138.png
0
0
Anna
http://annahuckabee.com/wp-content/uploads/2016/07/logo-300x138.png
Anna
2017-11-21 11:43:20
2017-11-21 11:43:20
Our Favorite Pies