What would you do if you walked into the kitchen and discovered your husband had left one of these on the counter? 😉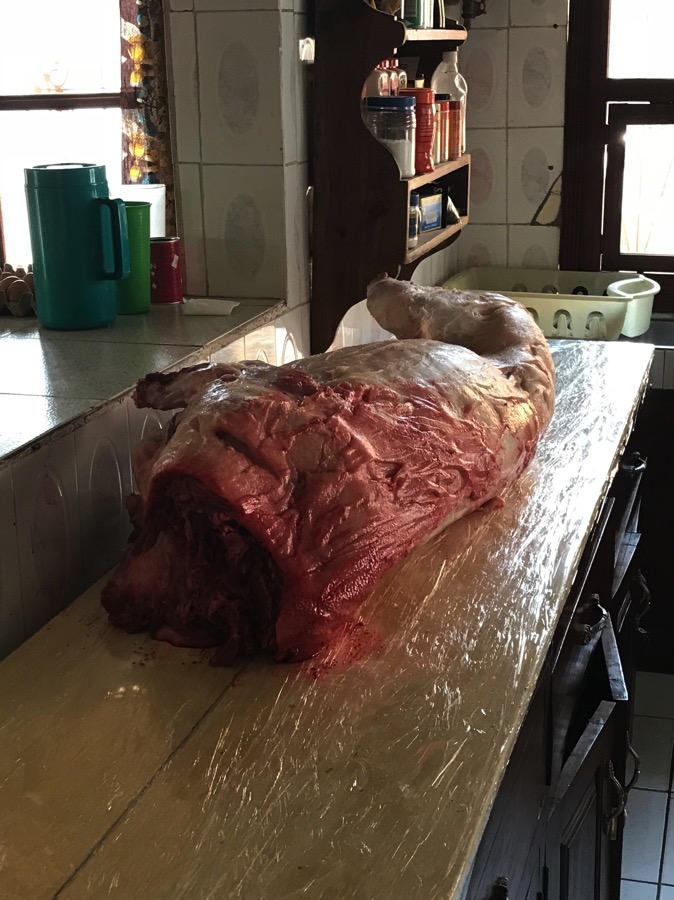 In reality, getting a pig takes planning and forethought. It's a huge, two day process and involves giving up most of my refrigerator space. We start planning for it a couple weeks in advance.
Not long after we arrived in Uganda, we discovered that obtaining pork products was challenging. Yes, people here eat pork. They don't, however, eat it like Americans who have made the consumption of pork products an art form. We can't get sausage or ham. We can get small breakfast sausage type things, but the meat doesn't resemble anything I'm familiar with. We can also get pork on a stick — roasted over an open fire in the evenings. It's tough and usually full of bones.
We brought the necessary supplies (a meat grinder attachment for our Bosch kitchen machine, and sausage seasonings and casings)  back with us from the States. 
James heads to the Western Market to get the pig. All livestock is slaughtered in a slaughterhouse where it is inspected for disease or other problems. Then they bring it to the market where people break it down for sale. We got the whole pig this time. They took off the head and shaved it.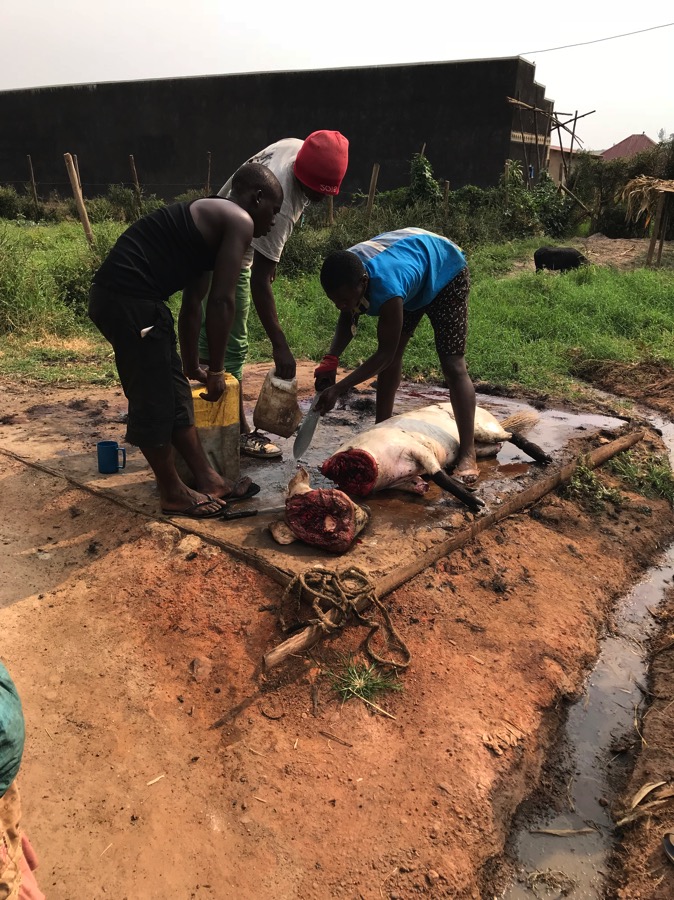 Then they gutted it.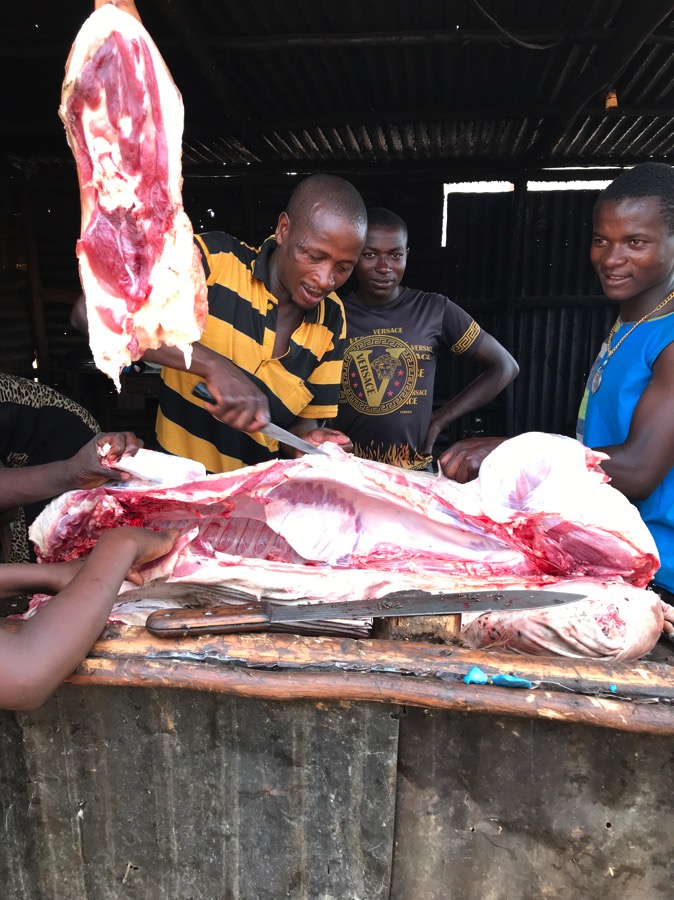 Finally, they weighed it and charged us the hanging weight.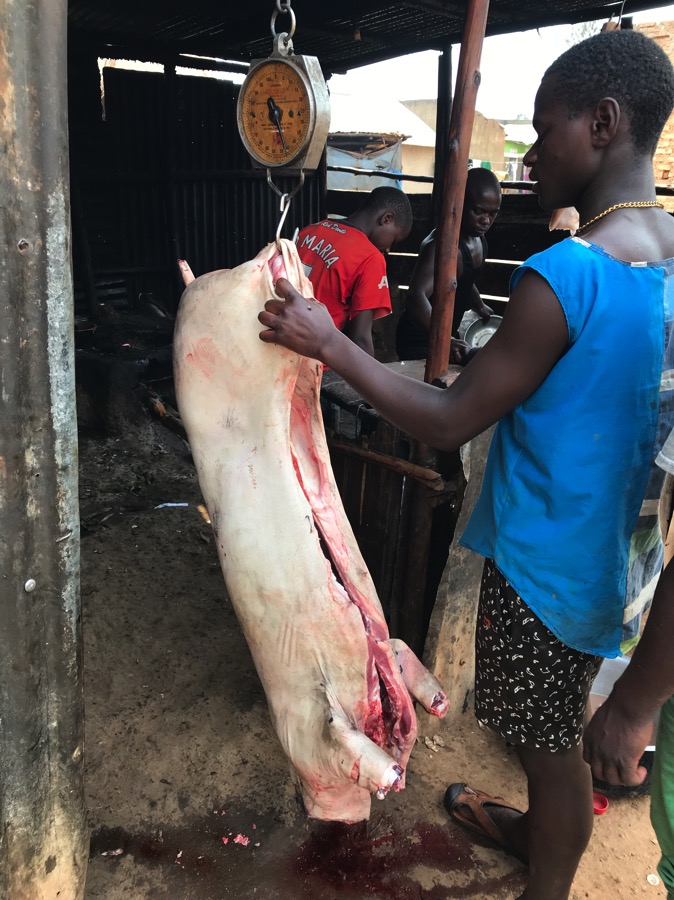 James brought it home, where we'd set up the kitchen so he could break it down. We have a special saw and fillet knives. James has kevlar gloves to protect his hands from the sharp blades. He and the boys spent several hours breaking down the meat into usable portions. The bones all went into a huge stock pot we use to make bone broth. He saved out ham bones for ham and beans — a family favorite. The rest of the meat went into the fridge to cool overnight. (The carcass was still warm when he got it home. Oh.the.horror.)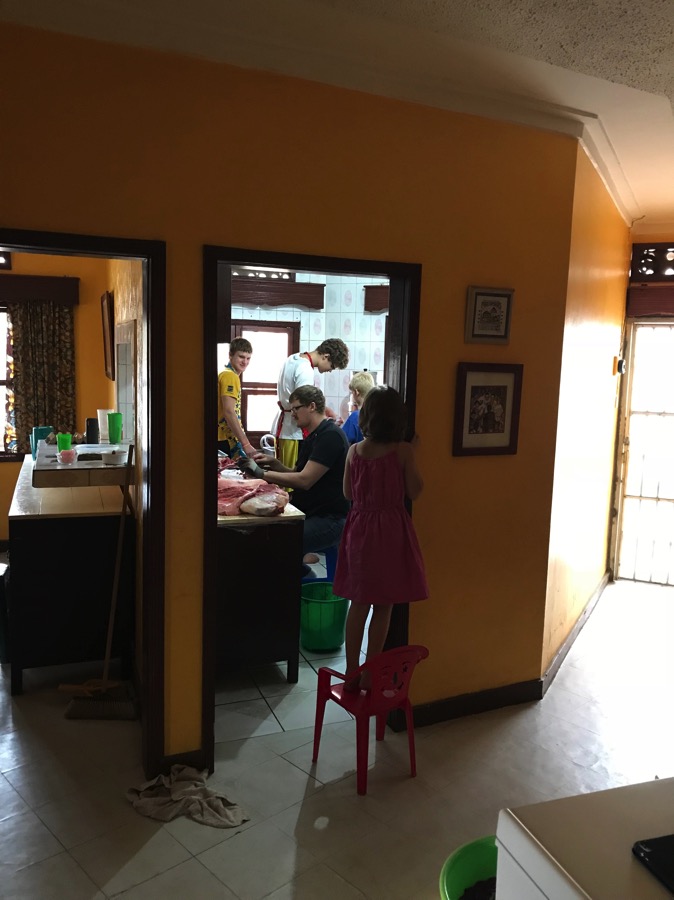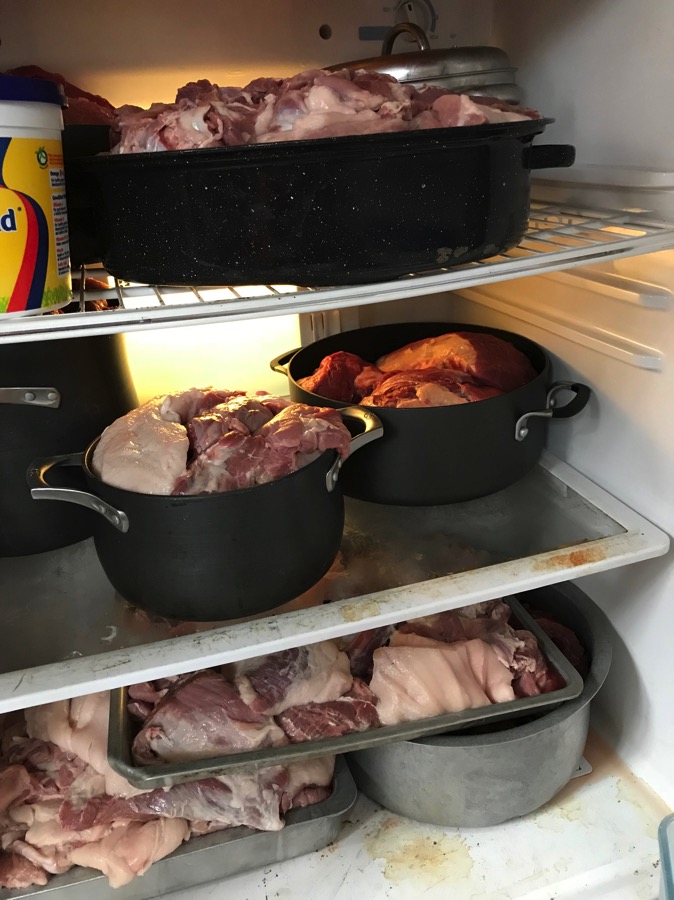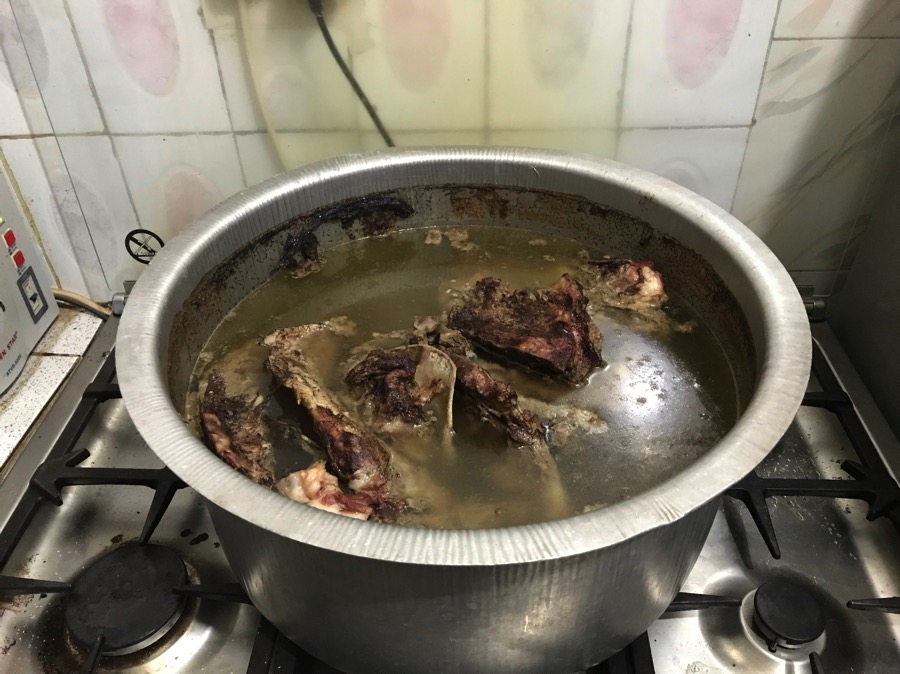 The following day, James and the boys work with the chilled meat and make it into all sorts of good things. Well, they'll be good once they are cooked. They put the meat through the grinder, then mix in the necessary spices. Bulk sausage is bagged and frozen. The rest of the sausage is put back through the grinder and fed into the sausage casings for bratwurst.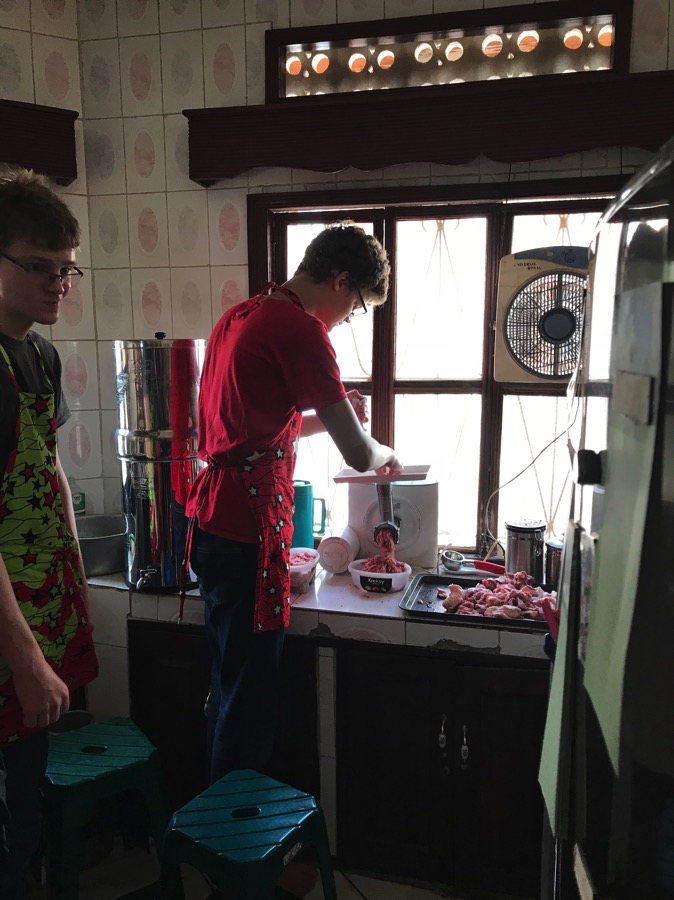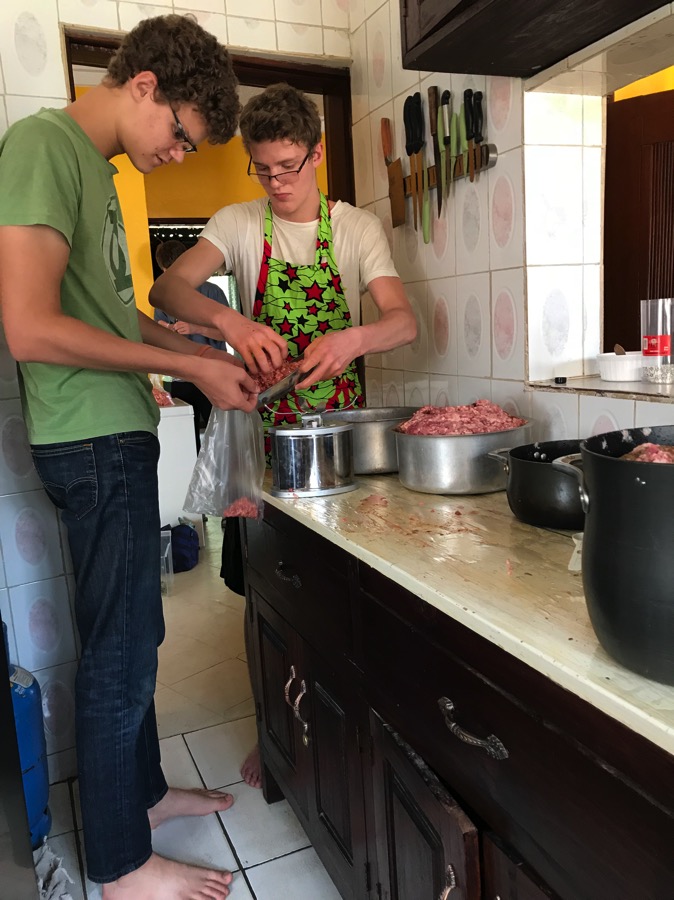 Last, but definitely not least, the finished product is stored in the freezer so we don't have to do this again for several months.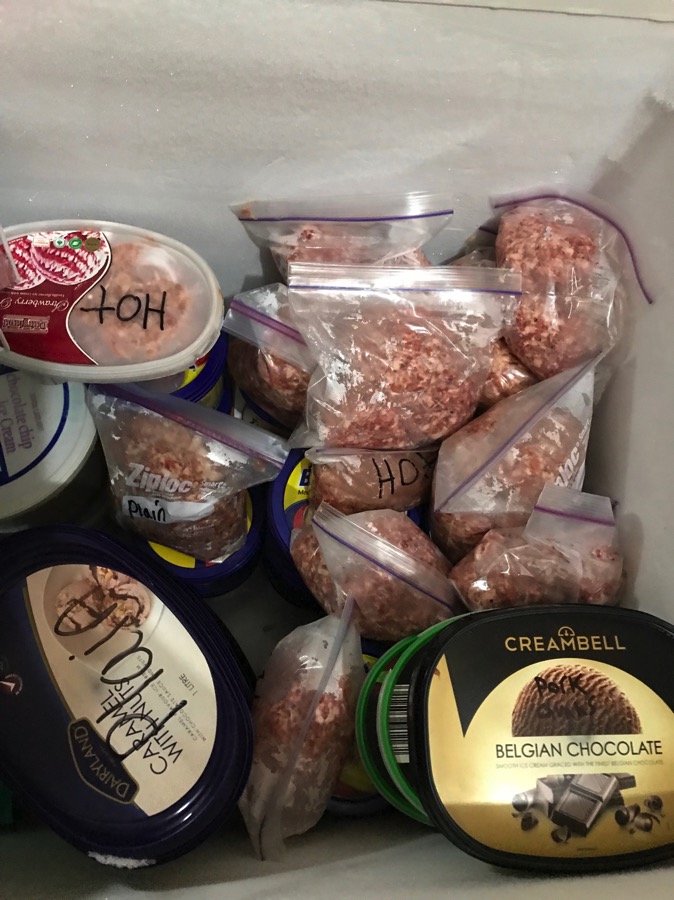 Where am I during this process? I don't handle the raw meat well. It looks to me like a giant ball of salmonella or botulism and the smell makes me queazy. I've tried, I really have. But they all took offense to me following them around with the bottle of sanitizing spray. So I stay away and let them work. I try very hard not to think about what they are doing and where they might be tracking meat and blood in the rest of the house and I try even harder not to freak out when I do, indeed, think about it.
When they are finished, they clean the kitchen from top to bottom. So I get a freezer full of meat and a super clean kitchen out of the deal. Win win for me! 😀
http://annahuckabee.com/wp-content/uploads/2016/07/logo-300x138.png
0
0
Anna
http://annahuckabee.com/wp-content/uploads/2016/07/logo-300x138.png
Anna
2018-02-10 13:07:57
2018-02-10 13:07:57
In Pursuit of Pork Products