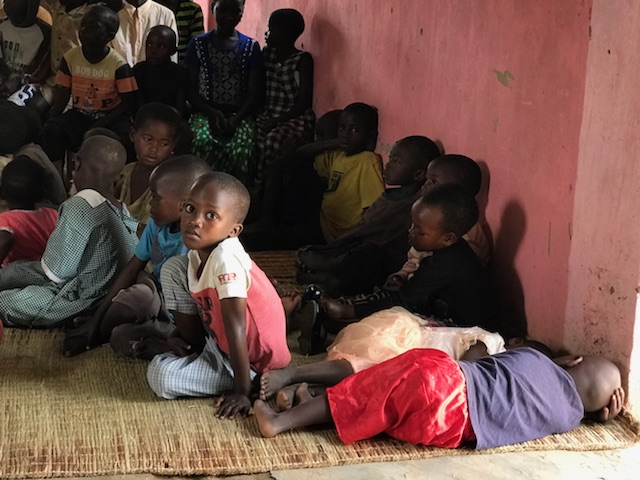 The children at Kabazana sit in the front of the church instead of the back. This morning these two little ones were so cute, in their own little world, talking and whispering to each other and ignoring the service. We're working toward restarting their Sunday School. The lady who used to teach it emigrated to the US a couple years ago and no one has been teaching since.
We also restarted the Sunday School at Sangano a couple weeks ago. Nearly a third of the people James baptizes are children. We're seeing them saved and growing up in the church from a young age and it's making a huge difference. 
Today, we got to see another example of the difference it makes to reach the children while they are young:  Two of the young people from Sangano got engaged this last week! These two people have grown up in the church and were saved and baptized here. They will be the first people James has married who don't already have children together.
(There have been two or three couples whose wedding was more of a vow renewal. They'd lost their marriage certificate at some point and they needed another for immigration purposes.)
Since we've been here, we've been doing all we could to encourage people to get married instead of just living together. We try to remove as many of the obstacles keeping them from getting properly married as we can. We provide the church, the food, the cake, and the wedding rings. They only thing they have to come up with is their wedding clothes.
The young man went to the young woman's father this week and negotiated the bride price — the proper way to go about it in this culture. They announced their engagement in church today and are discussing when they'll have the give-away and then the wedding. We'll probably have it in December.
Jaqueline, the young woman, is one of the ones who helps serve food at our church meals. She's always there when I cut up the cake and usually lets me know how big to cut the pieces. I plan to ask her if she has a preference for how she wants her cake to look. She's given an opinion on every one I've done so far. 😀
If you can't tell, I'm super excited about this! It's evidence the young people have been listening and that God's Word is making a difference in the lives of the youth here in Uganda.
http://annahuckabee.com/wp-content/uploads/2016/07/logo-300x138.png
0
0
Anna
http://annahuckabee.com/wp-content/uploads/2016/07/logo-300x138.png
Anna
2017-10-08 14:06:29
2017-10-08 14:06:29
Get Them While They're Young