Pizza has been a Huckabee family tradition since…well, for so long I can't remember it not being a tradition. We have only rarely missed our weekly pizza night, usually through no fault of our own.
When we were in New York City, we found a true New York style pizza place, complete with brick oven and homemade cannoli for dessert. It was walking distance from the 9/11 Memorial.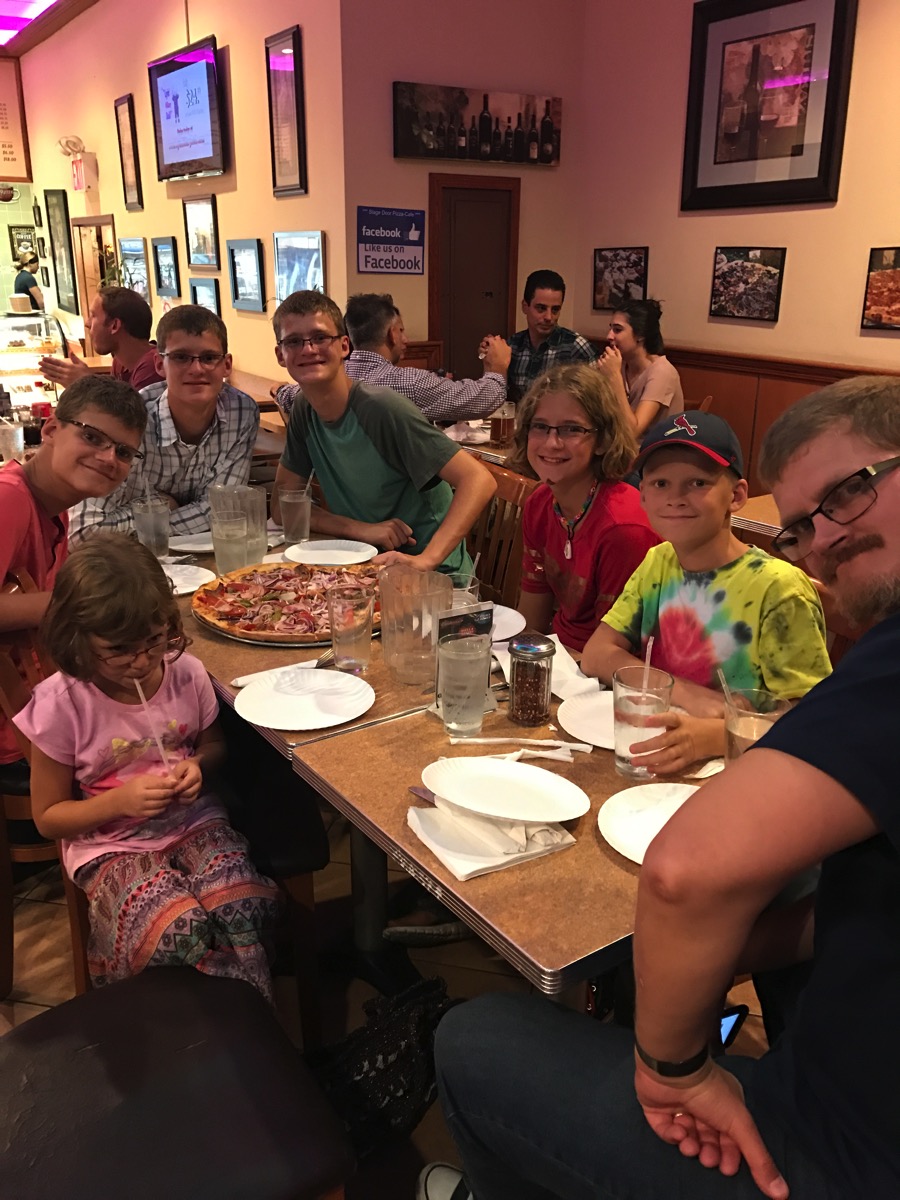 As we ate, John* said, "This tastes just like the pizza we make." 
"That's because we prefer New York style pizza," James answered.
The first time we had New York style pizza was in 2006, the last time we went to New York City. We took the subway over to Brooklyn and found a tiny little hole in the wall pizza place run by a Russian man who, once we'd finished eating, stuffed a brown paper bag with donuts from his pastry shop next door and sent them with us "for the children". How the kids loved those donuts that had been squashed on the return trip!
We adapted our pizza recipe to be more like the pizza we'd eaten that day. We've done that ever since.
The key to any pizza style is the crust. St. Louis style pizza crust is cracker thin. Chicago style is pan pizza thick, in some cases known as "deep dish". Sometimes you need a fork to eat it. New York style is in between, a perfect blend between crust and toppings.
This is the crust recipe we use. I know there are countless others out there. Personally, I like this one because of it's simplicity and adaptability. We'll get to that in a later post. This recipe was given to my family of origin years ago so it is not original with me.
Pizza Crust
(makes three 14 inch crusts)
2 cups water (can add up to 1/3 cup more if needed)
2 TBSP oil
1 TBSP yeast
2 tsp salt
6 cups flour (or enough to make the proper consistency of dough)
Just dump all the ingredients together and mix until the dough forms a ball that is easy to work with.
You don't want it so moist that it clings to your fingers and the rolling pin, and you don't want it so dry that it crumbles apart. I usually add 5 cups of flour and begin mixing, gradually adding the sixth cup until the consistency is correct. It's okay to use more than 6 cups of flour. You want it to form a smooth, pliable lump.
Divide the dough into three balls. Flour the countertop and place a ball in the center. Flour the top of the ball. Begin rolling into a circle the size of the lightly greased pan you will use. (At normal altitudes you might not need to grease your pan. In Africa, at 5,000 feet, we have to grease it or the crust will stick. Sometimes it sticks anyway.)
For St. Louis style crust divide into 4 balls and bake them for a few minutes to keep them from rising. Let them cool before adding toppings. For Chicago style, place the crust into a deep greased pan and allow to rise for a few minutes before adding the toppings.
Still to come…Homemade sauce and how to top these masterpieces.
(*John is my pizza making right hand man. He knows almost as much about making our pizza as I do, so much in fact, that he can do the entire process on his own without my help.)
http://annahuckabee.com/wp-content/uploads/2016/07/logo-300x138.png
0
0
Anna
http://annahuckabee.com/wp-content/uploads/2016/07/logo-300x138.png
Anna
2016-10-28 12:58:28
2017-10-03 09:40:33
Pizza! (part 1)