Don't you love my click-bait title? 😉
It is true, nonetheless. Moms do need a dictator coffee mug. Why? Truth in advertising of course!
Let me share the story behind my mug.
A few months ago we had a busy day planned. James was at the refugee camp for the day so I made a housecleaning list for us to accomplish once the kids had finished school. I'm a huge believer in rewarding hard work so I went over the list with the kids and we all jumped into the work with a promise of a reward at the end. At least I did. The rest of them finished school and then disappeared. 
I first noticed the disappearance when I took a break from my own work to see how everyone else was coming on theirs. They were all gone, hiding in various locations about the house, hoping I wouldn't notice the disappearance and would leave them to whatever project they had taken up.
Being the responsible parent that I am, I rounded everyone up, put away the distractions and got everyone on task again for the day. 
Jamie was not happy with me. Well, to be honest, none of them were, but he was the only one brave enough to say anything.
"You're just a dictator!" he growled at me as only a teen boy with a changing voice can growl.
There was a moment's hesitation wherein all the air in the room was sucked out by the other kids' intake of breath as they waited for my response.
I burst out laughing. I know a parent isn't supposed to laugh at their child when they are being disrespectful but I couldn't help myself. I laughed almost until I cried. "You're only just figuring this out?" I gasped. "Of course I'm a dictator and don't you forget it!"
The other kids laughed, too, mostly out of relief, some because they thought it was funny, too. Jamie wasn't very happy with the laughing, but what was he to do? 
In their defense, my kids almost never mouth off to me. They rarely get bad attitudes. They are hard and thorough workers, Jamie at least as much maybe more so than the rest. 
Mom is the Dictator has become a running joke.
Why do I get this job? Why can't ___ do it? Because the Dictator said so.
Complaining about going to bed? The Dictator said you had to.
Why can't we have dessert? The Dictator said we couldn't. 
Why do I have to sit in this seat at the table? I called the seat over there! The Dictator told you to.
The Dictator has spoken.
Do not question the Dictator.
Then we all laugh and Jamie looks sheepish and we all go on with what we have to do with a better attitude.
James got me a Dictator mug for Mother's Day this year. I love it! Now, when the questions come, I take a sip of the nectar of the gods (i.e. coffee) and point to my title engraved on the mug.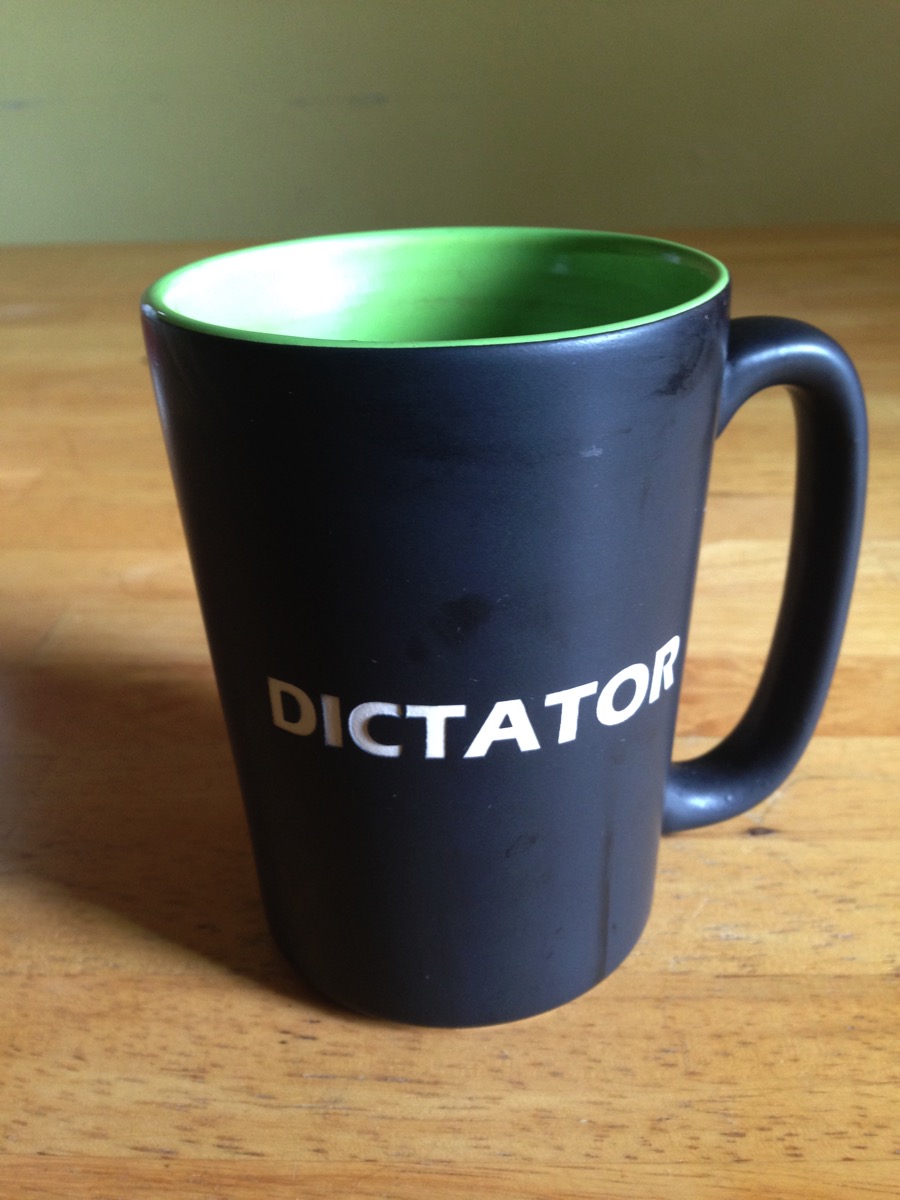 http://annahuckabee.com/wp-content/uploads/2016/07/logo-300x138.png
0
0
Anna
http://annahuckabee.com/wp-content/uploads/2016/07/logo-300x138.png
Anna
2016-08-31 12:02:20
2016-08-31 12:05:25
Every Mom Needs a Dictator Coffee Mug. Here's Why!